About Payment
Payment methods below are available.
1.Credit Card
Payment: Enter your credit card information in the payment section.




About Security Code
Security Code is the unique code on credit card or debit card to avoid unauthorized use. Please check below for where it located.
※Three digits on the back side of the VISA or MasterCard
(It located right next to the main card number.)
If you cannot identify your security code or you cannot read it, please contact either bank or credit card company.
2.Convenience Store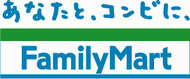 Convenience Store Transaction Fees
Convenience Store Transaction fees
When the tatal amount is for 30000 Yen or less:440 Yen (tax included)
When the tatal amount is for 30001 Yen or more:660 Yen (tax included)
It's showed at confirmation of apply page.
Payment Methods
Payment Methods: Within three days after your order, please go to the convenience store that you chose and complete your payment.
Attention: You have to pay advance at convenience store. Your order will be cancelled if the payment is overdue.
The payment at convenience stores are only accepted in Japan.
3.PayPal
Paypal Transaction fees : 0 JPY(excluding tax)
It's showed at confirmation of apply page.
Attention: The deadline for the paypal payment is one day before the deadline of the payment.